ADOPTABLE DOGS
otis and omar urgent: home needed ASAP!
Otis and Omar are absolutely adorable hound mixes. Our best guess is that they're a mix of labrador and Bassett hound. They're each about 80 lbs, and although they could be adopted together they can be adopted separately! These boys were originally adopted by a family in Idaho who had them for two years, but through no fault of their own had to give them back to us. Right now they are in a boarding facility in Boise, and we are desperate to find them a new home as soon as possible. They are sweet, goofy, and loyal and would make an amazing addition to your family. While all of our hounds are in urgent need of a home, Otis and Omar's situation is especially untenable. If you've ever thought about adding a goofy hound mix to your family, now is the time!
---
oz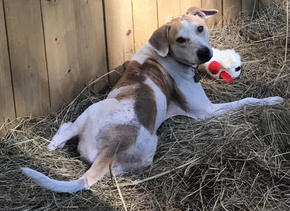 Oz is a sweet, playful, goofy hound mix. He loves to play and he loves people, but what he loves more than anything in the world are TOYS! He is about 50 lbs and is learning that people can be gentle and kind. He is learning to love cuddles, too! He is currently undergoing heartworm treatment and then we'll know more about his compatibility with cats, dogs, and kids.

Oz likes...
Other dogs: Not sure yet.
Kids: Not sure yet.
Cats: Not sure yet.

---
BROWNIE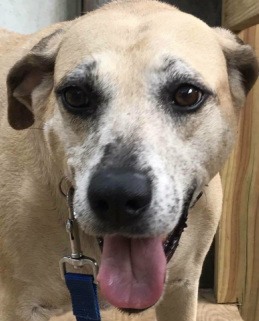 So Brownie isn't
technically
a hound, but she is a rescue we have taken over. Besides, being a hound has a lot to do with your frame of mind, and we think Brownie fits the bill! She came to us when her owner had to go into an assisted living facility and could not take Brownie with her. Brownie is about eight years old and would be a wonderful companion for anyone.
Brownie likes...
Other dogs:
No.
Kids:
Yes!
Cats:
No.
Contact us about Brownie today
!
---
BRUCE
Bruce is one of our smaller hounds, weighing in at about 40 pounds. His rescue (with Bernadine, who has since been adopted) was a days-long stakeout in rural Louisiana. Now that he's safe, he is a sweet and happy guy looking for his forever home. Don't let his size fool you, he loves to play hard!
Bruce likes...
Other dogs:
Definitely!
Kids:
Yes!
Cats:
Yes!
Contact us about Bruce today
!
---
WENDELL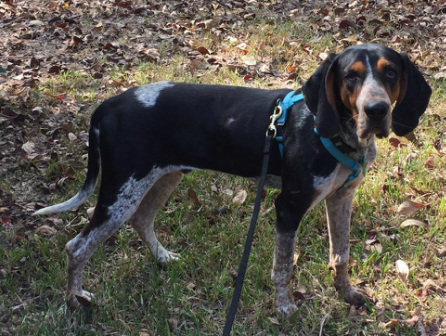 Wendell is our sweet, energetic young guy. He's quite the character, with a goofy personality and is always ready to play. He is really smart and ready to please, but needs a home where his family will be willing to work with him to give him daily exercise and mental stimulation.
Wendell likes...
Other dogs:
Yes!
Kids:
Yes!
Cats:
No cat test yet.
Contact us about Wendell today
!
---
LINCOLN
AKA Lincoln Long Ears, this boy was found abandoned and emaciated in rural Louisiana. He was heartworm positive, but is currently undergoing treatment and has gained 29 pounds since rescue! He is doing well with lessons and learning how to be a beloved pet. We can't wait to find Lincoln a wonderful forever home!
Lincoln likes...
Other dogs:
Yes!
Kids:
Yes!
Cats:
No.
Contact us about Lincoln today!
---
RUBY
Ruby came to us when she found at an abandoned house. She's a 50 pound English coonhound mix who is about three years old. She is now healthy and happy and ready for her forever home! Ruby is sweet and playful, and is currently living with a wonderful foster family and is doing great. As you can see in the photo at left, her tail never stops wagging.
Ruby likes...
Other dogs:
Yes!
Kids:
Yes!
Cats:
Yes!
Contact us about Ruby today!
---
WEBSTER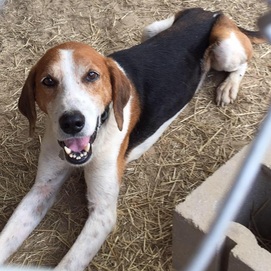 Webster is our most recent rescue. He's a sweet, laid-back foxhound who is probably three or four years old. We are slowly getting to know more about him as he comes out of his shell- lately we have learned that he LOVES to play with toys! He'll need a home where someone is willing to work with him to teach him how to be a beloved pet- we think it's likely he's never lived in a house before. But he is a sweet boy who is anxious to please!
Webster likes...
Other dogs:
Not sure yet.
Kids:
Per Sandy, "YES!!!!!"
Cats:
No cat test yet.
Contact us about Webster today!
---
ADELAIDE
Adelaide is a "mini foxhound" as we like to call her. She has a wonderful temperament, good with cats, kids, and other dogs. She is currently being treated for very severe heart worms, which we think are causing some other health issues. Although we are still evaluating her health, we are beginning to accept applications for this lovely girl!
Adelaide likes....
Other dogs:
Yes!
Kids:
Yes!
Cats:
Yes!
Contact us about Adelaide today!
---
READY TO SAVE A HOUND?
Email
allhoundsondeck@gmail.com
today to inquire about adoption. While our process may seem daunting at first, we are thorough because we want to make sure our hound is a good fit for your family! We require application forms, vet references, a $150 adoption fee, and we will facilitate a home visit before the adoption is finalized. Then it will be happy ever after for you, and especially for our hound!
CONTACT US