HAPPILY EVER AFTER
A QUICK NOTE
After a bunch of happy holiday adoptions, our site went down behind-the-scenes for some maintenance. As a result, we were delayed sharing our recent adoptions with you. We apologize (but hope you'll forgive us when you see all the joy below)!
HOLLY HOUND IS HOME!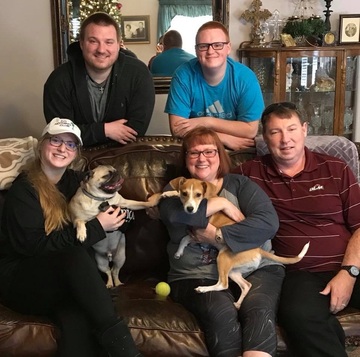 Our dear Holly is home! Although we adopt our hounds anywhere in the continental United States or Southern Canada, it's definitely fantastic when we can find perfect adopters right in our own backyard. Holly has a whole new family- including two human brothers, a human sister, and an adorable pug brother named Magnus. We are so, so excited for Holly's new life!

Posted February 10, 2018
---
DOLLY'S JOURNEY HOME
With so many of our rescues, it takes a village- and Dolly's trip home is no exception. With two sets of volunteers, traveling from Louisiana to Virginia to Connecticut, Dolly had no short trip with no shortage of logistical challenges. But this is why all that effort is worth it: look at this happy family. Our hearts are full. Congratulations to Dolly and her wonderful new family!
Posted February 10, 2018.
BRUCE IS HOME!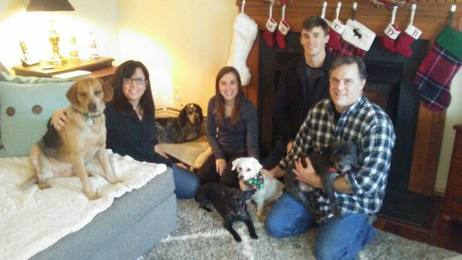 Sometimes dogs wait for homes for a long time, and then the absolutely perfect home appears. This was the case with Bruce, who waited 16 months before he was adopted by a wonderful family in Virginia. Our hounds often seem to know that they are home forever, and Bruce was no exception- he ran right in like he had always lived there. We are so happy for Bruce, his new life, and his new family!




Posted February 10, 2018.
---
LINCOLN MOVES WEST
RUBY IS HOME!
Fantastic news! Our dear Ruby has been adopted by her foster family, including doggie siblings JoJo, Sheba, Pharoah, Daisy, and her best buddy, Blake. And of course, the amazing Stacey and Jim, her loving parents. We'll let Stacey talk about why:

"Ruby and I had a talk this evening. She said she knew we were looking for a great home for her, but if she did leave our house she would miss Blake sooooo much and she just really didn't want to go anywhere else. Blake, being the butt-inski that he is, told us he would need medication if she left him. Jim and I were not shocked by either conversation. We asked Ruby and Blake if they were sure about all this. They gave us a paws up. So, Jim and I would be honored to adopt Ruby and give a loving home to our sweet girl."

Sometimes, our foster families turn into the absolutely perfect forever homes. We could not be happier.

Happy Holidays to Ruby and her new forever family!

Posted December 19, 2017
Our favorite kind of failure
Our smiling Rhett has a home! His foster family fell in love with him and decided he was meant to be a permanent part of the family. As you can see, he is a VERY lucky hound!

We absolutely rely on foster families to help socialize our dogs and prepare them for their forever homes. And sometimes our hounds end up in a foster family that turns out to be exactly the forever home they've been waiting for! We are so, so thrilled for Rhett and his new family- our favorite type of failure is a foster failure.

---
SAMSON GETS A HOME!
CONTACT US